Polish Junior Champion

Redrivals BURNING SPITFIRE


"MJ"
BREED:
Nova Scotia Duck Tolling Retriever
COUNTRY OF ORIGIN:
Norway (Redrivals kennel)
PEDIGREE: k9data
Born: 2022.02.10
Gender: Male
Height:
Weight:
WORK:
basic obedience training
basic dummy training
HEALTH:
pending
MJ (Redrivals Burning Spitfire) arrived in 2022 from the Redrivals kennel in Norway.
His mother – Redrivals Wildcard (Tesla) is Swedish Obedience Champion and Obediencetoller of the Year of Tollarspecialen 2019. She is a wonderful, obedience dog and together with her handler Louise they make an absolutely perfect team, which I adore.
MJ's father – Tollarbos Malliga Otto Yes (Yes) has a promotion to obedience class 3 and is competing in tolling hunting tests in Sweden achieving an excellent prize in open class. Yes' grandmother is a mother and sister of the only Tollers that have competed in the World Obedience Championships (Xuper and Skoj).
MJ's ancestors are also proven hunting and game tracking dogs, which made this combination very interesting.
MJ is very happy and social dog. He is my future hope, my obedience soul mate, my better half in dummy training and future hunting companion. I am very excited about our adventure and can't wait to see what the future holds.
FOUNDATIONS
As we are hoping to use MJ's working potential in hunting, we are working on basic obedience, steadiness and the foundations of a working retriever. We are training on dummy and taking part in blood tracking workshops and retriever trainings organized by the Polish Hunting Association.
FOUNDATIONS
From the very first day we are building foundations of the obedience training. Currently we are focusing on having fun, understanding cues & signals and building our relationship.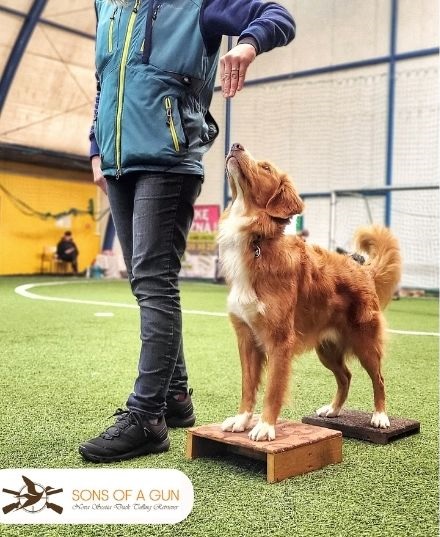 Polish Junior Champion
DOG SHOWS 2023
---
International Dog Show (CACIB) – 15.07.2023 (Gorzów Wlkp., PL)
Intermediate class – excellent I/1, CWC/CAC
International Dog Show (CACIB) – 4.06.2023 (Darłówko, PL)
Intermediate class – excellent I/1, CWC/CAC, res. CACIB
National Dog Show (CAC) – 4.03.2023 (Leszno-Rydzyna, PL)
Junior class – excellent I/1, Youth Winner, Best Junior, BOB
National Dog Show (CAC) – 5.03.2023 (Leszno-Rydzyna, PL)
Junior class – excellent I/1, Youth Winner
National Dog Show (CAC) – 18.03.2023 (Świebodzice, PL)
Junior class – excellent I/1, Youth Winner
DOG SHOWS 2022
---
II International Dog Show (Gorzów Wielkopolski, PL)
Minor Puppy class – very promising, Best Minor Puppy
International Dog Show – 5.11.2022 (Poznań, PL)
Puppy class – very promising I/1
International Dog Show – 6.11.2022 (Poznań, PL)
Puppy class – very promising I/1