Polish Junior Champion, Polish Champion

NEXTGENERATION PEAKPERFORMANCE Dancing with Fire


"Spock"
STUD DOG
(frozen semen available)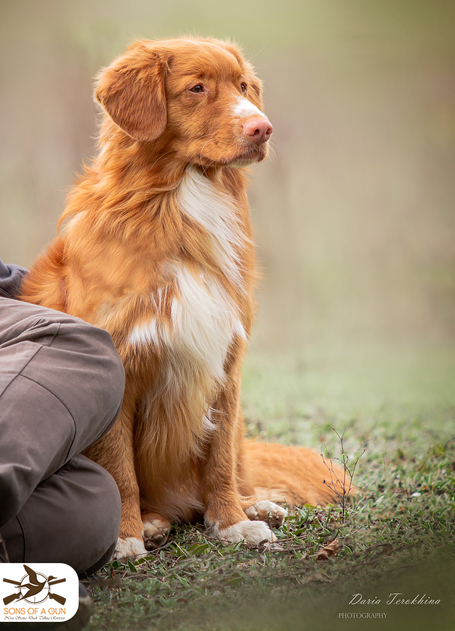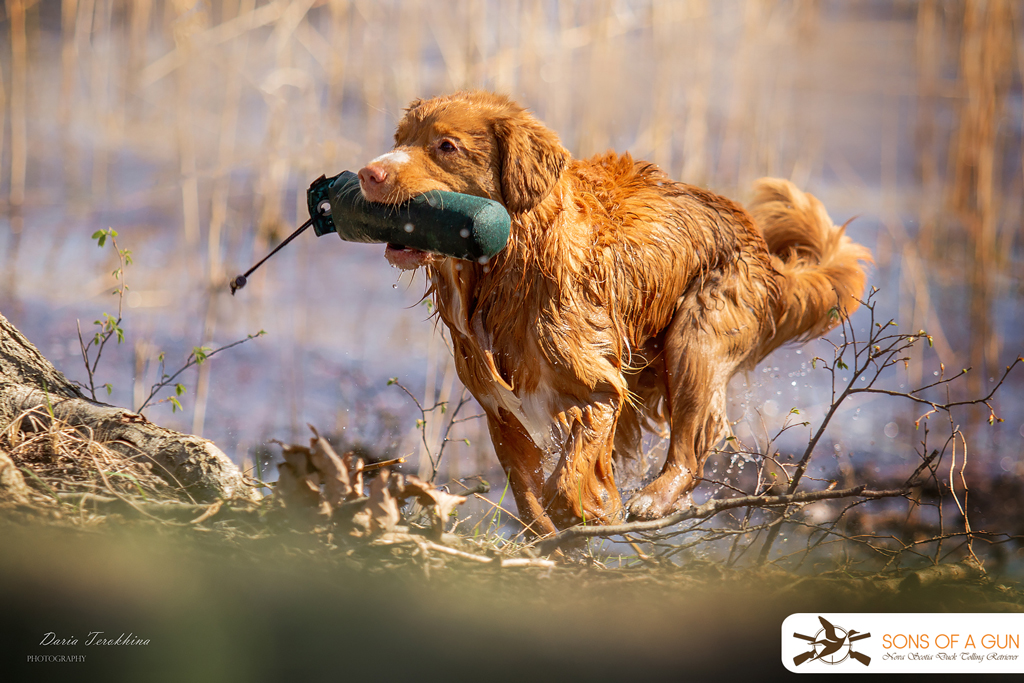 BREED:
Nova Scotia Duck Tolling Retriever
COUNTRY OF ORIGIN:
Poland (Dancing with Fire kennel)
PEDIGREE: k9data click here
Born: 2014.04.04
Gender: Male
Height: 46,5 cm
Weight: 17 kg
TITLES:
Polish Junior Champion
Polish Champion
Working Class Certificate (WCC)
Polish Obedience Champion OB2 (2019)
Polish Obedience Champion of Retrievers OB3 (2023)
WORK:
Obedience
Dummy
Hunting
HEALTH:
HD B, ED 0/0, OCD free
prcd PRA: clear by parentage
CEA/CH: clear by parentage
Eyes: clear
DM: clear by parentage
JADD: clear by parentage
DEN: normal/clear
CLPS: normal/clear
CP1: clear/normal
DTR BUFF: normal/clear
CDDY: CDDY/CDDY
(spine and joints x-rayed in September 2021 – healthy)
PROGENY:
Spock x Abby – read more
(6 girls, 5 boys, born on: 2018.03.31)
Spock x Lana – read more
(1 girl, born on: 2016.12.07)
Spock, officially NEXTGENERATION PEAKPERFORMANCE Dancing with Fire, is our second toller that has come from the "Dancing with Fire" kennel from Krakow (Poland). His parents, Kalmegess' CANADIAN RANGER (Ranger) and Stonaway's SKY TRINITY (Trin), were imported from Canada.
When we decided to have our second toller, we wanted a dog with a huge 'will to please' and a great working potential to meet our ambition and goals in obedience and dummy training. Trin won us over with her temperament, diligence, focus, drive, and the style of work. The pedigree of the 'Next Generation' litter riveted us with the numerous work titles won by Spock's ancestors, including the famous Westerlea Elias' Tidal Wave (Chelsea), a splendid bitch with a stellar track record of hunting titles. In this line there are also many dogs from the appreciated Foxgrove Kennel.
Spock is a dog fixed on his humans with great 'will to please'. He is a cuddly little fellow who follows our every step. We like to call him a good boy; there have been no problems with his character, the dog is non-combative and quite responsive to call offs.
With his superior physical fitness, the dog is very agile and highly maneuverable. His dummy work is very important to him, and Spock shows this with great speed and tenacity, perfectly negotiating all shrubs and bushes in his way.
Spock is also an excellent swimmer with a great water courage. He is eager for work to the point of actually squealing of impatience and excitement. We have been slowly but successfully taming his emotions, although this takes a lot of time and his urges must (unfortunately!) be phased out a little bit.
Spock has passed dummy competitions, Working Tests, official and unofficial tolling hunting tests. He passed an official Polish hunting test for retrievers and got the Working Class Certificate (WCC) issued by the Polish Kennel Club. He is also the only Polish Toller that passed the tolling hunting tests (Tollingjaktprov) in Sweden.
What's most important for us, Spock is a proven hunting dog, used for duck, goose and pheasant hunting.
Spock's performance in obedience training is a bit different than his dummy practice. In dummy training he responds well to pressure, new challenges and difficult exercises, as the dummy work is self rewarding for him. In obedience training, my relation with dog is extremely important. Spock needs to have immediate feedback of his performance and needs know when I am really satisfied with his work. As he senses and takes the stress and anxiety of his handler, my clear head and attitude are a bit a key to success.
In obedience training, where precision is required, we need to keep the criteria and remember to only reward him in the right spots or moments. Spock is a quick learner and easily remembers the performance he is rewarded for. The work with Spock must be based on many positive and quick adjustments in short and intensive sessions. His strengths include dynamic exercises and a proper balance between motivation with food and toys.
Both with Weezy and Spock we are the members of the Na Fali Obedience Team (Poland) where we train with Joanna Hewelt. In 2019 Spock won the Polish Obedience Championships in class 2 and is now competing in the international class 3 (elite).
Spock is available at stud selectively to approved, health tested bitches.
Working Class Certificate (WCC)
Proven hunting dog (ducks, geese, pheasants)
---
01/05/2022 – Tollingjaktprov (Degeberga, SE)
NKL – very good (judge: Ronny Lillebakken | NO)
30/04/2022 – Tollingjaktprov (Degeberga, SE)
NKL – good (judge: Ronny Lillebakken | NO)
30/09/2018 – Hunting Test for Retrievers (Biskupin, PL)
Class B – 3. prize (3rd degree diploma)
09/08/2018 – Hunting Test for Retrievers (Czernikowo, PL)
Class B – 3. prize (3rd degree diploma)
26/03/2017 – Tolling Tests – unofficial (Velké Meziříčí, CZ)
NKL – 1st prize, place 4/12, best tolling (judge: Sverker Haraldsson | SE)
24/08/2019 – Working Test (Golub-Dobrzyń, PL)
Class L, 43/80 points
Judge: Beppe Masia (IT) & Cinzia Masetti Fedi Sgorbati (IT)
03/08/2018 – Dummy Test – Tollarspecialen 2018
(Muskö, SE)
Open Class – 81/100 points, place 3/15, Judge's Choice
30/06/2018 – Working Test (Brzeszczki Duże, PL)
Class E, 63/100 points, place 3/7
Judge: Stefano Martinoli (IT)
09/06/2018 – Working Test (Garwolin, PL)
Class E – 64/80 points, place 2/12
Judge: Kurt Becksteiner (AT)
04/08/2017 – Dummy Test – Tollarspecialen 2017
(Laholm, SE)
Open Class – 55/100 points, place 8/10
05/08/2016 – Dummy Test – Tollarspecialen 2016
(Forsvik, SE)
Novice Class – 78/100 points, place 15/73
19/09/2015 – Dummy Competition (Wawrzkowizna, PL)
Class E – 65/80 points, place 2/4
Judge: Leszek Siejkowski (PL)
Polish Obedience Championships winner OB2 2019
Polish Obedience Championships of Retrievers winner OB3 2023
OBEDIENCE CLASS 3 (ELITE CLASS)
---
WINNER of the POLISH OBEDIENCE CHAMPIONSHIPS OF RETRIEVERS 2023
2023.11.19 – Polish Obedience Championships of Retrievers (Radziszów, PL)
place 6/13, 220/320 points
Judge: Anna Musilová (CZ)
2021.10.02 – Obedience Competition in Wrocław (PL)
place 8/8, 171,5/320 points
Judge: Ivetta Skalicka (CZ)
2021.06.20 – Qualifications for the FCI Obedience World Championship 2021
place 16/25, note: good – 212/320 points
Judges: Katarzyna Drobik-Michalska (PL), Nadine Hess (CH)
2021.06.19 – Qualifications for the FCI Obedience World Championship 2021
place 15/25, note: good – 205/320 points
Judges: Katarzyna Drobik-Michalska (PL), Nadine Hess (CH)
OBEDIENCE CLASS 2
---
POLISH OBEDIENCE CHAMPIONSHIPS 2019 WINNER
2019.09.29 – Polish Obedience Championships (Gdynia, PL)
place 1/17, note: excellent – 277/320 points
Judge: Kristýna Barošová (CZ)
2018.04.08 – Tollarspecialen 2018 (Muskö, SE)
place 3/9, note: very good – 253/320 points
Judge: Anders Svensson (SE)
OBEDIENCE CLASS 1
---
2017.02.04 – Obedience Competition in Wrocław (PL)
place 1/22, note: excellent – 284/320 points
Judge: Jacek Lewkowicz (PL)
2017.12.03 – Obedience Competition in Grębiszew (PL)
place 9/17, note: good – 222/320 points
Judge: Stanisław Pasek (PL)
2017.11.03 – Obedience Competition in Grębiszew (PL)
place 7/19, note: very good – 247/320 points
Judge: Viktoria Varsani (IT)
2017.14.01 – Obedience Competition in Gdynia (PL)
place 3/19, note: excellent – 277/320 points
Judge: Rudy Cattrysse (BE)
2016.06.08 – Tollarspecialen 2016 (Forsvik, SE)
place 2/11, note: excellent – 181,5/200 points
Judge: Siw Carlén (SE)
BEGINNER CLASS
---
2016.19.06 – Obedience Competition in Gdynia (PL)
place 4/7, note: excellent – 87/100 points
Judge: Katarzyna Drobik-Michalska (PL)
2015.01.08 – Tollarspecialen 2015 (Sälen, SE)
lace 7/31, note: excellent – 160,5/200 points
Judge: Anders Ostling (SE)
Companion Dog Exam
---
2015.29.08 – Companion Dog Exam in Poznań (PL)
note: excellent (198/200 points), place 1/3
Judge: Tadeusz Roszkiewicz (PL)
Photo: Clockwork Shepherd's
Polish Junior Champion
Polish Champion
8 x BOB
DOG SHOWS 2022
---
II International Dog Show (Gorzów Wielkopolski, PL)
Working Class – excellent I, CWC/CAC, CACIB
Best Working Dog, Best Adult Dog, BOS
DOG SHOWS 2019
---
Work & Show Weekend 2019 (PL) – place 2/12
Ranking based on WT + CWC/CAC results
Judges: Beppe Masia (IT), Cinzia Masetti Fedi Sgorbati (IT)
National Dog Show (Golub-Dobrzyń, PL)
Working Class – excellent I, CWC/CAC
Best Dog, BOB, BOG IV
Austrian Winner (Wels, AT)
Working Class – excellent I, CACA
European Dog Show 2019 (Wels, AT)
Working Class – excellent I, CACA
Hunting Dogs National Show (Uzarzewo, PL)
Working Class – excellent I, CWC/CAC, Best Working Dog
4th place in Best Dogs with Working Class Certificate
DOG SHOWS 2016
---
National Dog Show in Gorzów Wielkopolski (PL)
excellent I, CWC/CAC, Best Adult Dog, BOB
International Dog Show in Leszno (PL)
excellent I, CWC/CAC, CACIB, Best Adult Dog, BOB
XIV National Gundog Show in Poznań (PL)
excellent I, CWC/CAC, Best Adult Dog, BOB
International Dog Show in Łódź (PL)
excellent I, CWC/CAC, CACIB, Best Adult Dog, BOB
DOG SHOWS 2015
---
International Dog Show in Poznań (PL)
excellent I, CWC/CAC
International Dog Show in Poznań (PL)
excellent I, CWC/CAC
XXIII International Dog Show in Wrocław (PL)
excellent I, Junior Winner, Best Junior in Breed, BOB
Sälen (SE) – Tollarspecialen 2015
excellent / Honor Prize
XLVII National Dog Show in Gorzów Wlkp. (PL)
excellent I, Junior Winner, Best Junior of Breed, BOB
XIII National Gundog Show in Poznań (PL)
excellent I, Junior Winner, Best Junior of Breed, BOB
z Jesenické smečky Kennel (Czech Republic)
litter with JCH CZ Abby from Hana fields
Photo: Petra Navrátilová